New-Gen Triton's striking new design
With a powerful, large, striking face and wider stance, the new-gen Triton has unconditional street presence that gives it a sense of firm yet nimble, functional, tough, and solid.
New-Gen Triton.
Significantly enhanced performance.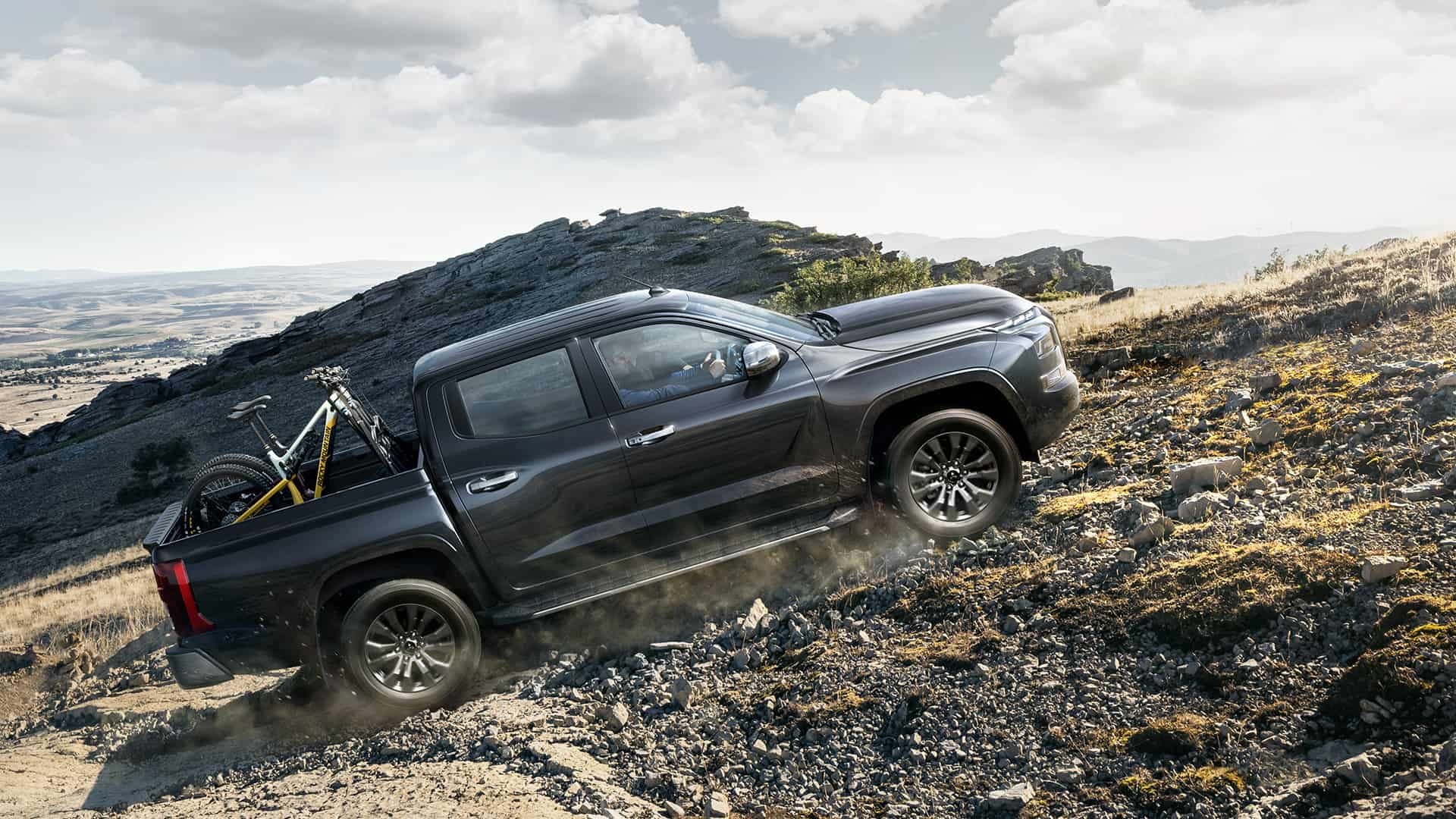 Mitsubishi Motors designed and developed 2.4-litre Bi-Turbo diesel engine with 'twin-stage' turbo charging develops 150kW of power with a 470Nm maximum torque, developed from lower in the rev range than ever before.
Improved cargo space
New-gen Triton's cargo bed is bigger than ever and has been designed to fit a 1200x800mm pallet even with a bedliner fitted. Flat and wide with low-mounted inner hooks for ease of tie down of loads.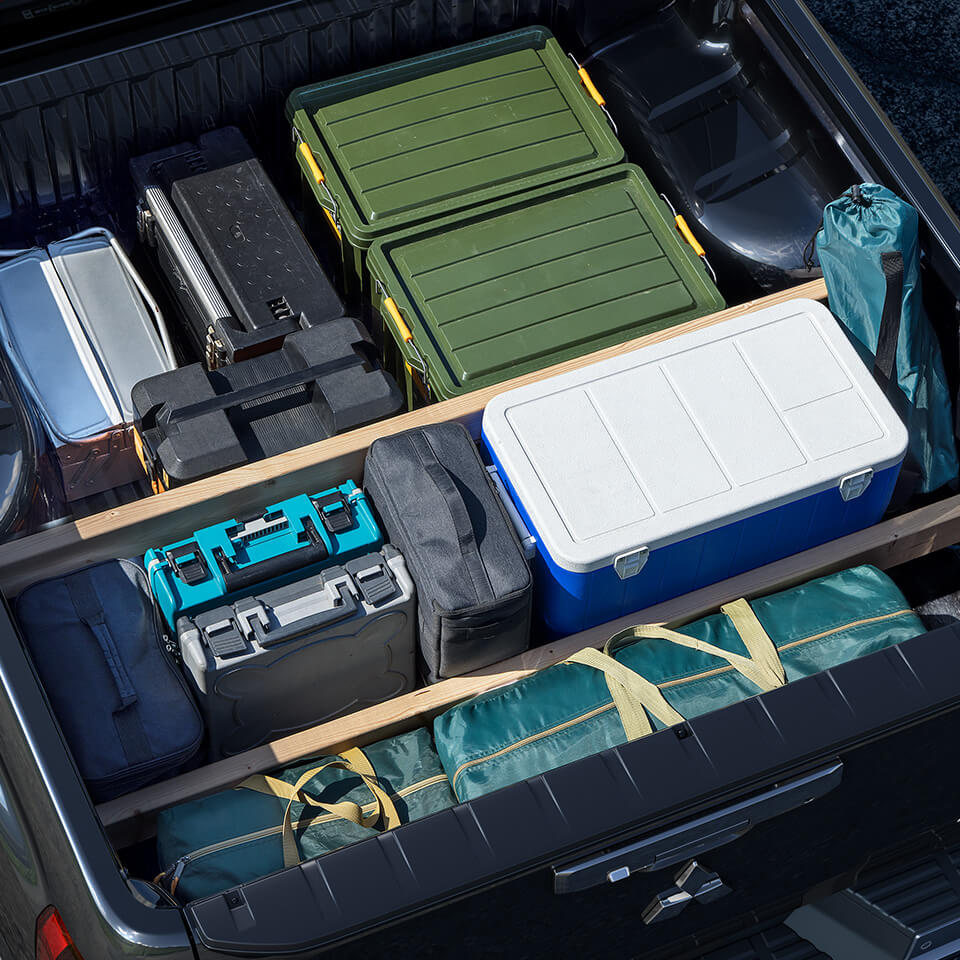 New-Gen Triton.
Enhanced performance with 7 drive modes.
Mitsubishi Motors Super Select 4WD-II all-wheel control technology is enhanced with seven drive modes for the new-gen Triton. Now with Normal Mode, ECO Mode, Gravel Mode, Snow Mode, Mud Mode, Sand Mode and Rock Mode. Each mode has been finely tuned to achieve outstanding driving confidence and performance in on and off-road conditions.
Newly developed Active Yaw Control
---
Active Yaw Control (AYC) assist drivers in cornering safely and confidently by optimising the yaw for enhanced steering response and consistency in the vehicle's behaviour. AYC is optimised for each mode on vehicles equipped with Super Select 4WD-II.
New-gen Triton is also equipped with an enhanced Brake Traction Control system with Active Limited Slip Differential (Active LSD) function for improved traction performance.
New-Gen Triton.
Improved interior and roominess.
To meet the rising demand for comfort in pick-up utes, new-gen Triton provides more comfort with detailed attention to cabin amenity, a wider cabin for more room and improved interior quietness achieved through attention to cabin isolation performance.
New-Gen Triton keeps you connected
---
A new 9.0-inch audio display with a 7.0-inch LCD Information display incorporated in the instrument cluster is standard across the range. Integrated satellite navigation and traffic sign recognition further support the driver. Connectivity is also enhanced with Wireless Apple CarPlay and Bluetooth.
New-Gen Triton.
Setting the safety standard.
Mitsubishi Motors' commitment to safety has been further enhanced with new-gen Triton. Designed to protect driver and passenger with the latest advanced active and passive safety features.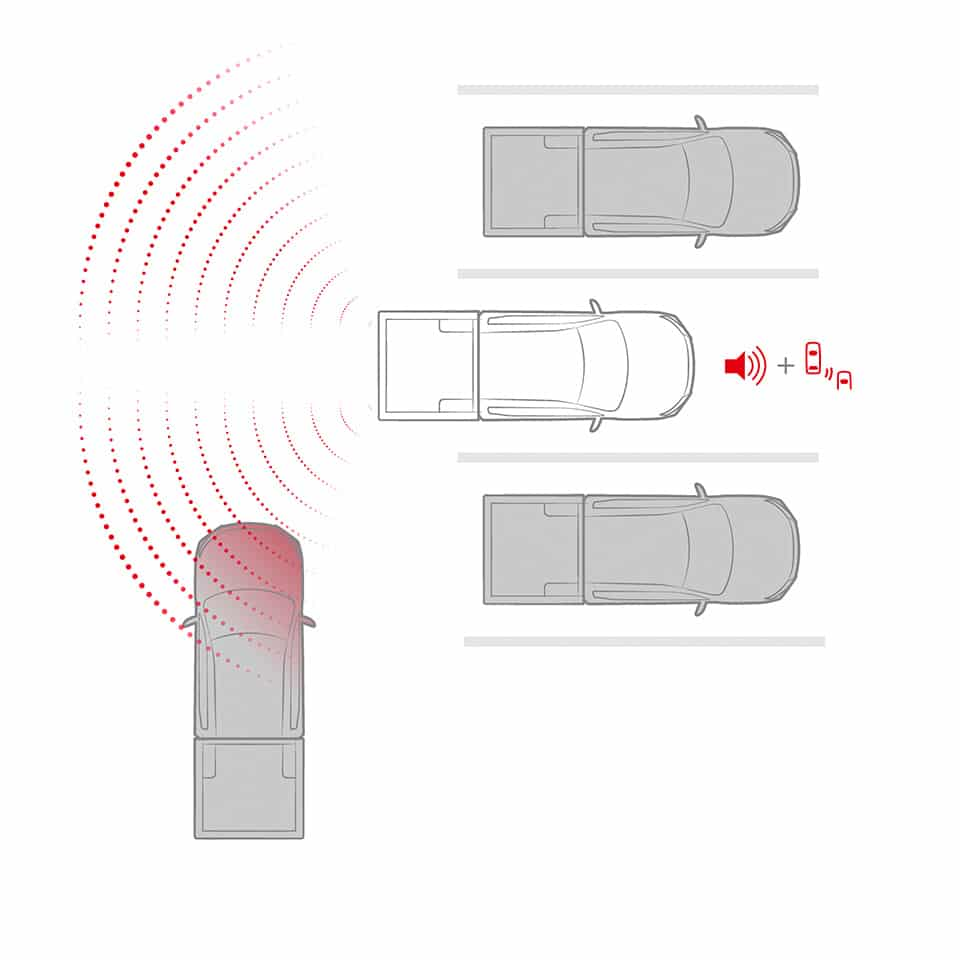 Forward and Rear Cross Traffic Alert
New Front Cross Traffic Alert (FCTA) alerts the driver via visual and audible warnings if an approaching vehicle is detected when entering an intersection. While Rear Cross Traffic Alert (RCTA) provides the same alerts for approaching vehicles when reversing.
Driver Monitoring System
Driver Monitoring System uses a steering column mounted camera to monitor the driver's face and detect driver drowsiness or distraction. An alert is displayed via the instrument cluster meter display when such events are detected.
Forward Collision Mitigation
Forward Collision Mitigation with pedestrian detection, cyclist detection and junction assist add further to new-gen Triton's safety credentials.